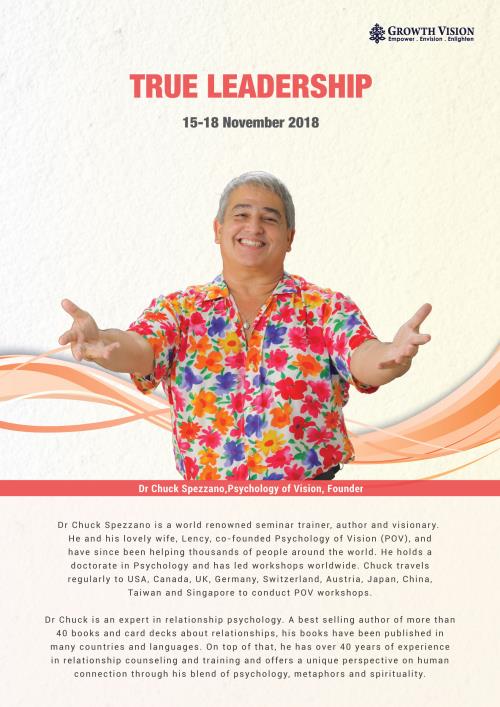 True Leadership 真实的领袖力
15-Nov-2018 - 18-Nov-2018
by Chuck Spezzano, Ph.D.
Highlight of the Year! ❤
POV Founder Dr. Chuck Spezzano
True Leadership
Date: 15th – 18th November
Do you wish to have True Power? Do you want to be an inspiring and irresistible leader, yet can be relaxed and happy at the same time?
Let's discover with POV founder Dr Chuck Spezzano.
what True Leadership is and win back precious leadership gifts of Humour, Ease, Intuition and Connection. Be the True Leader we destined to be.
年度亮点!
❤
POV愿景心理学创办人 恰卡.史匹桑诺博士
真实的领袖力
日期: 11月15-18日
你想拥有更多真实的力量吗?还是想拥有更多领袖力的特质,好让我们可以成为一个幸福轻松快乐的领袖? 欢迎大家一起来与POV创办人Chuck博士四天的约会。让我们一起赢回幽默,轻易,灵感,连结这些珍贵的礼物,好让我们可以在不同的情境里发挥真实领袖力。
Time
10:00 AM - 06:30 PM

Venue
Chui Huay Lim Club
190, Keng Lee Road
Singapore 308409