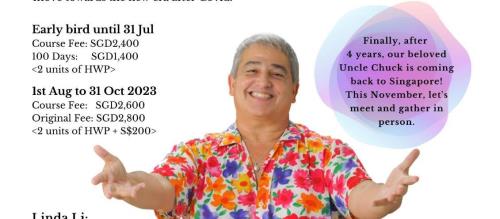 【被神祝福的改变 Blessed Change by Heaven】by POV Founder Dr. Chuck Spezzano
15-Nov-2023 - 19-Nov-2023
by Chuck Spezzano, Ph.D.
【Blessed Change by Heaven】
A pandemic that has lasted for three years has forever changed the direction and destiny of each of us and the entire world. There are much transformation and restoration awaits us. With more unknowns in the future, we need to learn ways to surrender and trust. Partnering with Heaven will help us ride through each wave of challenges more smoothly. Let us be blessed by Heaven every step of the way as we move towards the new era after Covid.
We cordially invite everyone to join us in this special happy Life transforming event!

【被神祝福的改变】
一场持续了3年的疫情永远的改变了我们每个人和整个世界的方向与命运。很多的转化和重建在等着我们。将来有更多的未知,我们需要学习臣服和信任。跟老天建立伙伴关系会帮助我们更平顺的渡过每一波的挑战。在Covid 之后,新的纪元到来的时候,让我们接下来的每一步,都是被老天祝福的。


时隔4年,我们最爱的Uncle Chuck 终于要回新加坡啦。今年11月,我们在线下相聚,你一定要来噢!
Finally, after 4 years, our beloved Uncle Chuck is coming back to Singapore! This November let's meet and gather in person!
主题 Title: Blessed Change by Heaven 被神祝福的改变
日期 Date:2023年11月15日~19日(5天工作坊)
时间 Time:10:00am ~ 6pm (Singapore Time)

即刻报名以享有课程优惠 Register now for early bird promotion ~
报名/询问电话 Contact:
创知见 Growth Vision Training: 65 6908 8128 / 65 8939 7876
Time
10:00 AM - 06:00 PM

Venue
Indigo Lifestyle
10 Ubi Crescent #07-43
Singapore 408564