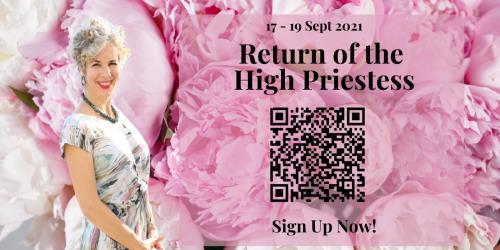 [Return of the High Priestess] by POV Trainer Francine Girard
17-Sep-2021 - 19-Sep-2021
by Francine Girard
讲师 Speaker: Francine Girard(愿景心理学训练师 POV Trainer)
(英语教学,华语翻译 Conducted in English, Mandarin translation)
今年的国际大师工作坊采线上教学(Zoom Meeting Room)电脑 手机 平板 都可以使用。

成功报名后就会收到工作坊的会议室 ID 以及密码(仅限个人使用)
The workshop will be held online (format: Zoom Meeting Room).
After registered, meeting ID & password will be given (for personal use only)
——————————————————————————————————
[Return of the High Priestess]
Women are the natural leaders when it comes to relationships and embracing femininity. Every woman has the high priestess energy in us.
In this amazing 3 days workshop, Francine will show us how we can unleash and embrace our inner priestess, to remember who we are, and to live a fulfilled life. As a result, we can start to truly shine and at the same time inspire other women around us.
If you feel called for, we welcome you to join us for this extraordinary "Return of the High Priestess".
——————————————————————————————————
POV Trainer
Francine Girard
Francine Girard is the current Trainer Program Director for Psychology of Vision (POV) and she has been a POV Trainer for fourteen years and a private therapist for 20 years. POV is at the heart of her work but she blends her background as a yoga instructor and training in various psychological and spiritual modalities. She is a dynamic teacher and an intuitive and transformative therapist. She works internationally with individuals and groups and lives near Seattle, Washington with her husband and two children.
Course Fee:SGD$1800 Online Registration: https://www.eventbrite.sg/e/return-of-the-high-priestess-tickets-161727879441?aff=POVSGMYGroup&fbclid=IwAR1nKyz4f7sMB-ku9_kjAPT-3kaPTHn88Hk1AAlGAe7bMyvx2l_FEZbeL90
Time
19-09-2021 - 09:00 AM

Venue
Zoom
Online