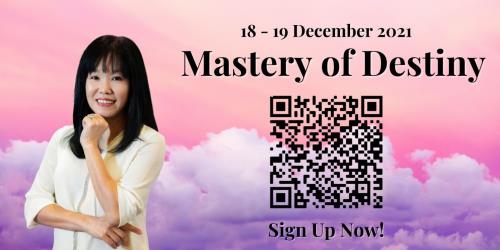 [天命大师进阶工作坊 Mastery of Destiny] by POV Trainer Veron Lim
18-Dec-2021 - 19-Dec-2021
by Veronica Lim
主题 Title: 天命大师进阶工作坊 Mastery of Destiny Workshop
日期 Date:2021年12月18日~19日(2天工作坊)
时间 Time:9:30am ~ 5:30pm (Singapore Time)
学费 Fee:SGD$699
讲师 Speaker: Veron Lim (愿景心理学训练师 POV Trainer)
(华语教学 Conducted in Mandarin, English translation upon request)
即刻报名以享有课程优惠 Register now for early bird promotion ~
报名/询问电话 Contact:
创知见 Growth Vision Training: 65 6908 8128 / 65 8939 7876
————————————————————————————————
【天命大师进阶工作坊】
当我们活出自己的天命和使命时,我们会感觉到完全的满足感。同时我们也会活在轻易和顺流里。拥抱天命无关乎我们该做些什么,是犹如大师般的"存在"。我们需要拥有放下种种对自己不真实的概念和信念才能回归到最真实的自己。
在这两天好玩和丰富的POV愿景工作坊里,我们将会探索和疗愈自己丢掉天命的地方。我们发了一个很大的脾气把自己丢掉了,这创造了许多困难,痛苦和无谓的受苦。拥抱天命让我们赢回许多天赋礼物,同时让我们的人生回到老天的轨道。這次工作坊將以中文教學。完成工作坊的同學將獲得兩天POV天數認證。
【Mastery of Destiny】
When we live in our purpose and destiny, it will give us a deep sense of fulfilment. To embrace our Destiny is to Be. To have the courage to let go of untrue concepts and beliefs about ourselves and to know who we really are.
In this 2 Days fun and enriching POV workshop, we will research and heal where we throw our destiny away, resulting in difficulties, pain and unnecessary suffering. As a result we embrace our natural gifts and put our lives back on track.
Students who complete the 2 Day workshop will be accredited 2 POV days that accrue to POV 100 days program.

————————————————————————————————
讲师简介:
林韵芬老师自2001年以来一直在从事辅导和培训的工作。 她潜心钻研自我发现和疗愈的领域, 并和世界各地的人分享她的天赋礼物。
林韵芬老师的教学深入浅出,深刻同时容易运用于我们的日常生活中。许多上过她的工作坊的学生都因为她的教导而在金钱,关系和健康等领域取得了生命中巨大的转化。

Veronica Lim

Ms Veronica Lim has been coaching and training people from all walks of life since 2000. She has invested extensively in the area of self-discovery and healing, at the same time sharing her gifts to many people around the world. Veron's teaching is simple, profound yet easy to apply. Many who attended her workshops reported to have experienced huge shifts in their lives especially in the area of money, relationship and health.
Online Registration: https://www.eventbrite.sg/e/mastery-of-destiny-2021-tickets-161727145245?aff=GVPhone
Time
10:00 AM - 05:30 PM

Venue
Zoom
Online