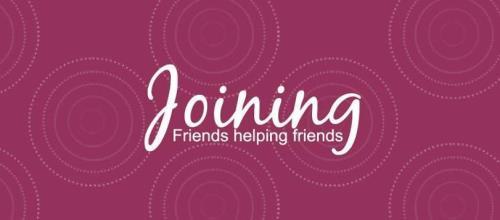 Joining is one of the most useful tool used in healing and resolving conflicts.
When we establish contact, we start to end separations, fights, conflicts and bring resolution. It is so far the fastest way to heal the fractures in our mind and in our heart.

We are faced with fast pace challenges and we seldom have the appropriate space and support that we give ourselves in our daily lives. Thus We provide a safe environment and support like our monthly Joining sessions for all our POV Alumnis to continue to grow and heal.

Emotions give us very big clue where in our sub-conscious/unconscious mind that we have once made a wrong choice in our life, and we can always correct it again!

Next Upcoming Joining Session
Our regular monthly joining session is happening on 12th April 2018 @ One Sims Lane #05-03.

This a support session for all POV Alumni, participants who have attended at least 2-days POV Workshop/equivalent. Kindly please RSVP to 9856 3832.

Date: 12th April 2018, Thursday
Time: 7.30pm - 9.30pm
Venue: One Sims Lane #05-03

What is Joining?

Joining is a unique Psychology of Vision healing method. It is a way of connecting with another person in love until we see God looking back at us through their eyes. Joining is the method of extending ourselves to another on an equal, horizontal basis, willing to see them as our self. It can be done either through eye contact or energetically from any distance. In joining with another, pain, separation, needs, loneliness, fear and other negative emotions are healed in an energetic uplifting through the chakras, as healing takes place at higher and higher levels.

The energy moves up through us until the issue being healed is completely released, and we feel so much love that we experience bliss. In this way, joining with another opens the door to receiving Divine Love through connection with the Mind of God.